The article below was prepared together with authors Philip Mause.
Sprague Resources, L.P. (SRLP) traded recently at $27.00. It pays a $2.67 distribution for a yield of 9.9%. This is a company with a stable business and a yield that is well covered. SRLP has increased its distribution for 17 quarters in a row.

The Business
SRLP has three primary businesses:
The largest business is the transportation, storage, wholesaling and retailing of refined products. Although a substantial amount of gasoline is handled, a large portion of the business involves distillates which are used as heating oil in the areas that SRLP serves. SRLP takes title to the refined products, protects itself with hedges, and then sells into the wholesale or retail market. SRLP has strategically located terminals and other facilities in the Northeast U.S. (including New York City and Long Island) and in Quebec. This business generates some $164 million a year in gross margin.
The second business is natural gas wholesale marketing. SRLP enters into contracts with suppliers and transporters and sells to distributors and large customers. This business generates some $67 million a year in gross margin.
The third business is materials handling. SRLP receives and stores various materials – asphalt, coal, heavy equipment – in areas near its terminals. It does not take title to the materials but charges fees for storage and other services. This business generates some $51 million a year in gross margin.
Therefore, the business is fairly well diversified.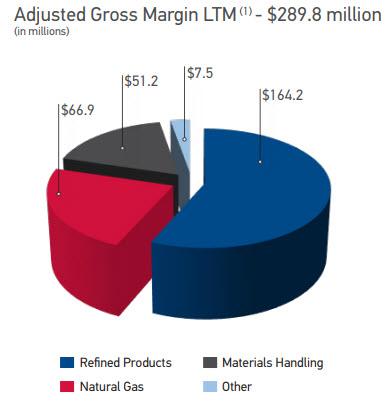 SRLP has a strong market power with key geographically strategic locations in major harbors, giving it a competitive advantage in this market. While the heating oil market is not growing, it's also not attracting new entrants and SRLP's strong market position gives it a "wide moat" in this business. In addition, even if the space could be found, it would be very difficult for a new entrant to obtain the environmental and other permits necessary to open large new terminal facilities in the key harbors which SRLP dominates.
SRLP also has been expanding by acquiring new storage and terminal facilities and diverse businesses. It recently acquired Coen Energy which provides fuel and delivery services to drillers in the Utica and Marcellus areas. This business tends to produce peak revenue in summer months which should tend to mitigate the winter situation, in case of a warm winter.
Understanding The Downstream Business
It's important for investors to understand the advantages and disadvantages of what is often called the downstream business. SRLP's natural gas and refined businesses are definitely a solid business for many reasons which include the fact that they are closer to the end user than they are to the producer.
SRLP's businesses do not really depend upon the amount of drilling activity in the United States. If for some reason US drilling activity was to decline dramatically and US-produced oil was to be replaced by imports, SRLP's refined products business would continue as before. The same is true of the natural gas business as long as US production satisfied demand. So if – for some reason, LNG exports were to decline due to world market conditions and that results in less drilling activity – it would not necessarily affect SRLP's natural gas business.
On the other hand, downstream businesses are subject to year-to-year variation due to weather patterns. In a very warm winter, sales volumes (and prices) – which depend on the demand for heating oil – will almost inevitably decline. SRLP can hedge (although perhaps not perfectly) against price declines but it would still be subject to the impact of lower volumes.
Another factor to bear in mind is seasonal variation in financial performance. SRLP earns most of its money in the winter – the quarters ending December 31 and March 31. For that reason, quarterly numbers must be evaluated either on a year-over-year basis (YOY) or as part of a trailing twelve month (TTM) analysis. For example, SRLP actually had negative distributable cash flow (DCF) in the quarter ending June 30 but this was a slight improvement over the year-ago quarter and cannot be taken as a harbinger of gloom.
Another factor which affects some downstream operators is very important in an analysis of SRLP's business – that factor is location advantage.
SRLP's terminals – actually tank farms – are located in harbors and other locations that permit delivery by sea or other means to centers of demand. In the Northeast, siting restrictions are such that it's very unlikely that a competitor could get approval to build a competing facility in the area. Thus, SRLP has an important "the only game in town" advantage which likely gives it pricing power and stability in volume. If SRLP were to abuse this advantage, regulatory action could – of course – result. But within a certain range, SRLP likely has some of the aspects of monopoly power.
Recent Results
We have calculated SRLP's results for the 12-month trailing ending June 30, 2018. Net sales were $3.5 billion, net income was $45.3 million, and adjusted EBITDA was $121.0 million. DCF was $76.3 million. SRLP has a unit count of 22.7 million.
SRLP is projecting full-year results at an adjusted EBITDA of $120-140 million (the wide range illustrates the weather pattern variation discussed above). Using this range, we can estimate that DCF will be between $72 and $99 million, or $3.17-4.36 of DCF per unit. The most likely number is probably about $80-85 million or a bit above TTM DCF. Using just $80 million in projected DCF (or $3.52/share), SRLP is trading at a very attractive valuation of 7.6 times DCF.
Leverage
Because of its recent growth, SRLP has improved its debt/EBITDA leverage ratio to 3.1 from 3.2 a year ago. This is a relatively low ratio for the MLP space and limits the impact of interest rate hikes. SRLP does hold significant amounts of inventory in its storage facilities and terminals but it uses hedging strategies to minimize risk due to a sudden change in prices.
Distributions
Based on annualizing the most recent distribution, SRLP is generating annual distributions of $2.67 per unit, which provides a distribution coverage of 104% for the 9.9% yield.
On July 26, 2018, SRLP declared its new quarterly distribution of $0.6675 per unit ($2.67 per unit on an annualized basis) representing a 2% increase over the distribution declared for the previous quarter, and an increase of 10% over the second quarter of 2017, which is significant. SRLP has been increasing distributions every quarter for 17 straight quarters in a row.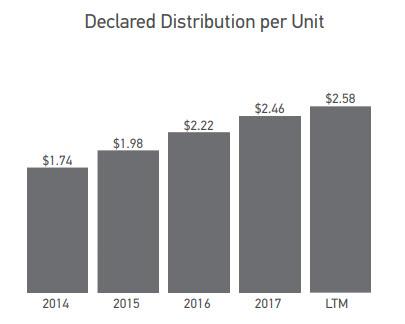 Although readers should note that the magnitude of distribution hikes may slow down in the future because SRLP is now in high "Incentive Distribution Rights" (or IDR) territory. IDR's start at 15% of distributions over 47.375 cents per quarter, increase to 15% of distributions over 51.5625 cents per quarter and top off at 50% of distributions over 61.875 cents per quarter. We are now in 50% territory so each additional penny per quarter will become more expensive. Still, the current distribution is close to 10%.
SRLP is providing full-year distribution coverage guidance in the 110% to 130% range (again a fairly wide range this late in the year) so there is probably some room for future increases in distribution over the next 12 to 24 months.
SRLP Is Still Opportunistic
We initially recommended SRLP on June 28, 2018, when it was trading at a price of $23.70/unit through a report posted here on Seeking Alpha entitled: Buy This 11% Yield Before It's Too Late – Growth And 40% Upside Potential From This MLP.
Today, SRLP is trading at $27.00, or 14% higher, in addition to the juicy dividend yield of 11% that investor bought at the time. So is the price still opportunistic?
SRLP has to be viewed in the context of its business. It is not as subject to drilling risk as upstream MLPs but it is much more subject to "warm winter" risk. Over three to five years, SRLP has been a very stable generator of cash flow despite the fact that the weather has produced significant variation. Not only this, but it has been able to hike its distribution "non-stop" for the past 17 quarters in a row.
SRLP is currently trading at 7.6 times DCF which is very cheap for the industry and is opportunistic considering SRLP's strong market position and solid growth track record. The discount from a more reasonable price level may be due to the fact that heating oil is considered a low or no growth business. It ignores the fact that SRLP has been able to grow by expansion within its core business and aggressive diversification into other adjacent businesses. It also ignores SRLP's "wide moat" in the form of the premium value associated with its geographically strategic terminal locations. Given these strengths, SRLP should trade at a level of at least 10 times DCF per unit which would imply a price of $35.5 or 31% upside from the current level.
If SRLP hits the midpoint or higher on its range, it would likely trade up from here. At the current price, SRLP is still a bargain with unit holders being paid a relatively safe distribution to wait.
Recommendation
SRLP is a strong buy here. This is an especially attractive investment for investors who are heavily committed to upstream or midstream MLPs because its risks are not correlated with the risks of those MLPs. The stock still provides investors with the opportunity to lock in a very juicy yield of close to 10% and the potential to achieve solid capital gains.
A note about diversification: To achieve an overall yield of +9% and optimal level of diversification, at High Dividend Opportunities, we recommend a maximum allocation of 2-3% of the portfolio to individual high-yield stocks such as SRLP and a maximum of 5% allocation to high-yield exchange-traded products (such as ETF, ETNs, and CEFs). For investors who depend on the income, diversification usually results in more stable dividends, mitigates downside risk, and reduces the overall volatility of their portfolio.
If you enjoyed this article and wish to receive updates on our latest research, click "Follow" next to my name at the top of this article.
Source note: All tables and images are from the respective companies' websites unless otherwise stated.
About 'High Dividend Opportunities: We are the largest community of income investors and retirees with over 1500 members. We provide a comprehensive service, ranked #1, dedicated to high-yield securities trading at attractive valuations – with an overall target yield of 9-10%. Subscription includes:
A managed portfolio of stocks currently yielding 9.8%.

A "Dividend Tracker" which lets you know exactly when to expect your next dividend.

A "Portfolio Tracker" to track your dividend holdings, income, and allocation by sector. For video click HERE.
If you are looking for the most profitable high-dividend ideas, you have come to the right place. For more info, click HERE.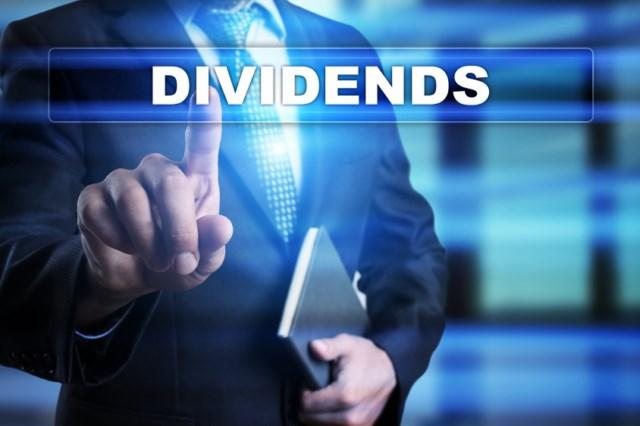 Disclosure: I am/we are long SRLP.
I wrote this article myself, and it expresses my own opinions. I am not receiving compensation for it (other than from Seeking Alpha). I have no business relationship with any company whose stock is mentioned in this article.
Related Posts: